Following on from our look at The Queen's brooches, next comes her female successor: Camilla. A number of brooches in her collection came from The Queen Mother, via Prince Charles, while others were gifts from foreign Royalty.
The brooches are separated into categories according to their colour, so yellow stone brooches and gold pieces can be found under the same section.
More links will come as the 'Diamond Database' expands, so keep checking back!
Head here to explore the royal jewel vault.
Diamond and clear-stone brooches
The brooches here are comprised solely of diamonds and are distinctly absent of colour. If you are looking for a brooch with a flash of rubies for example, head to that section.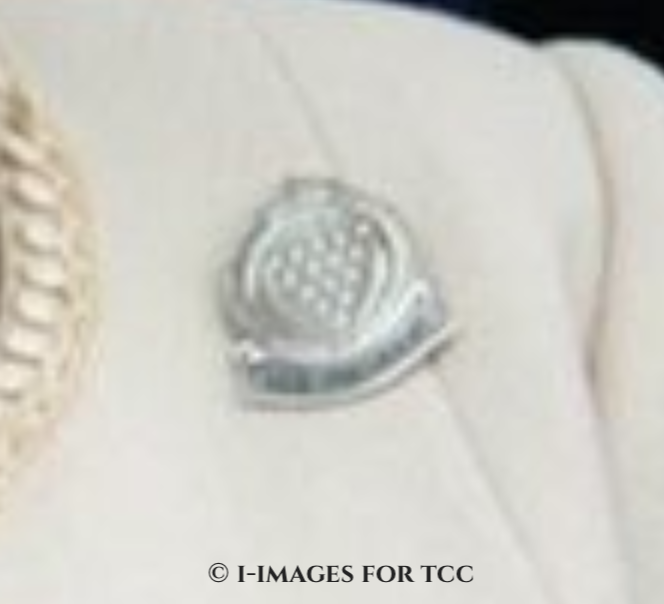 Duchy of Cornwall badge
The Canadian Maple Leaf brooch was part of a Commonwealth exhibition at the opening of Buckingham Palace (RCT/Queen Elizabeth II)
Diamond moth
Diamond cosmos brooches
Queen Mary's Thistle pin
Diamond flower brooch
Irish blossom brooch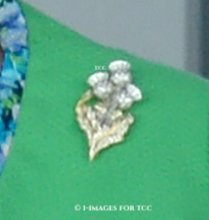 Three thistle brooch
City of London flower brooch
Gold flower brooch
Cullinan V brooch
Queen Victoria's bow brooches
Jardine star brooch
FEI horseshoes brooch
Three diamond bar brooch
Blue-stone brooches
A collection of sapphires, aquamarines, turquoise stones and even blue topaz are below.
Van Cleef & Arpels dragonflies
Turquoise duck brooches
Brazilian aquamarine brooch
Pearl and white brooches
The central focus of these brooches are lustrous pearls, and other white materials, like porcelain.
Crown brooch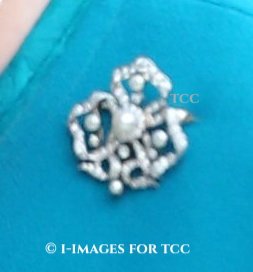 Pearl trefoil brooch
Queen Mother's navette brooch
Richmond brooch
Greville scroll brooch
Victoria's 11 pearl brooch
Queen Victoria's Diamond Jubilee brooch
Porcelain lily of the valley brooch
Cambridge pearl pendant
Red brooches
You'll find swathes of rubies, garnets, coral and other red tones here
Grima ruby brooch
Ruby spray brooch
Queen Mother's ruby spray bouqet
Hibiscus brooch
Pink brooches
Pink topaz, sapphires, and even diamonds make up these pieces.
Williamson pink diamond brooch
Saskatchewan flower brooch
Small pink stone brooch
Cameo rose brooch
Purple brooches
Amethysts are the main stone in this section, but you might also find 
Amethyst bouquet brooches
Green-stone brooches
Brooches made of emeralds, topaz, tourmaline and other green stones.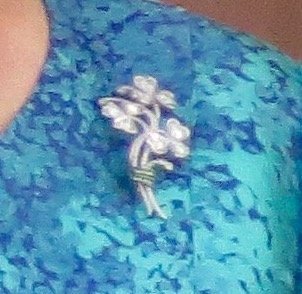 Three shamrock brooch
Yellow, gold & orange brooches
Rich and warm colours of orange and yellow amongst The Queen's collection
Claddagh brooch
Frosted sunflower brooch
Singapore filigree brooch
Braemar Gathering feather brooch
Daffodil brooch
Multi-colour brooches
These pieces are a mix of gorgeous stones, giving a colourful look 
Van Cleef & Arpels ballerina brooch
Van Cleef & Arpels Lucky Animals
Official badges
These brooches are military badges and symbols of various official organisations.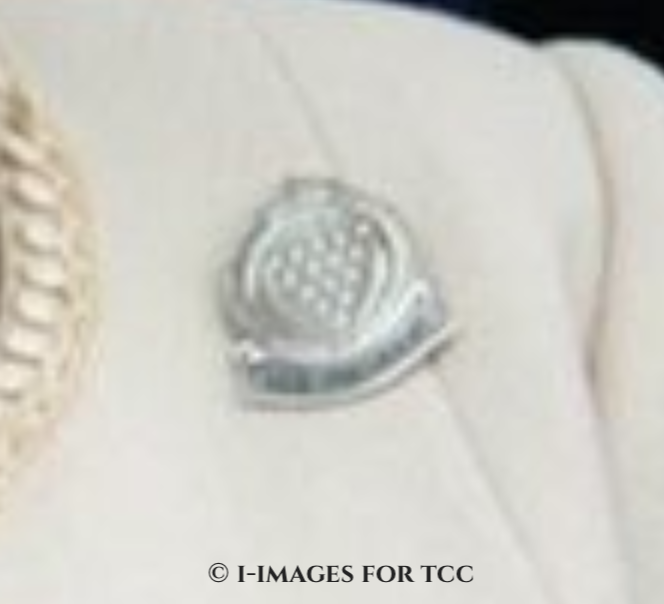 Duchy of Cornwall badge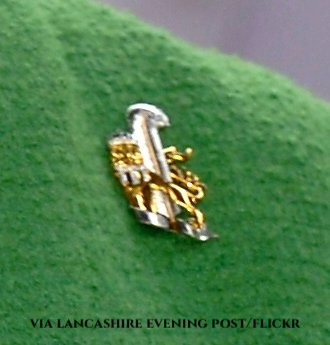 Duchy of Lancaster brooch
HMS Ocean brooch
Drapers' Company
Sources and recommendations:
Certain pieces are easy to research and look-up, on the internet, or in books, though others can be tricky. I have largely based my work on three books and the Royal Collection site. The books are: Hugh Roberts' 'The Queen's Diamonds'; Leslie Fields' 'The Queen's Jewels'; and Suzy Menkes' 'The Royal Jewels', although these publications are 30 years old now. Fields focuses solely on Elizabeth II's collection, and Menkes' book features jewels from Victoria to Diana.
For those trickier pieces, I sometimes defer to the more knowledgeable authors of Order of Splendour (referenced as OoS), an informative and detailed site covering the European jewel collections too, or From Her Majesty's Jewel Vault (HMJV), their sister site. Another excellent jewels blog comes from The Court Jeweller (TCJ).
For more general fashion readers (and royal watchers) is a book by Angela Kelly, The Queen's dresser and assistant, called 'Dressing The Queen: A Jubilee Wardrobe'. It was released, unsurprisingly, for the Jubilee in 2012, and it is a great look at how Her Majesty's wardrobe works, and is put together. Angela Kelly released another book (2019) called 'The Other Side of the Coin', which looks at her working relationship with Her Majesty; there are a number of other references and anecdotes in this book.